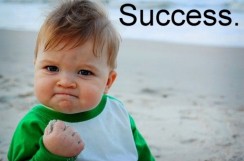 While I'm hardly one to call myself a success (unlike this couple), I have picked up a few learn-as-you-go tips that have seriously change my career and my life. To be honest, my freelancing career started without any preparation, focus or long-term planning. I basically decided one day that it was time to stop waiting for my life to happen and start living it. Although it's been a rocky road, I have never had trouble finding a writing gig (*knock on wood) and have succeeded in getting bigger and better jobs throughout my career. I must have done something right.
And looking back, maybe there were a few things that I did do that helped to sweeten the pot. With patience, time, hard work and a stubborn desire to make it no matter how tough it gets, you might get there too, maybe even faster than I did.
These crazy things I did may help you too:
I hoarded clips. Oh yeah I did! I wrote for free publications, local newspapers, teeny-tiny start-up blogs. I offered my writing services for free (well mostly because a lot of these places stiffed me). But in the end, building a ton of clips was a great way to start my career. When I was ready to start hitting up bigger companies, I had a melange of samples to choose from. I still do.
I acted like an extrovert. And I'm so not! But I sort-of pretended to be by searching for high profile writers that I admired and begged asked if I could interview them. Just a few minutes to "shadow" them and find out what it's like being in their shoes. Surprisingly, I was able to meet a few newspaper reporters that way and this amazing writer. Not only did I get professional advice on how to start my career, but one of the reporters I met knew a company I was interviewing. To this day, I believe that connection helped me to land my first copywriting gig for a major retailer. I'm forever grateful for those writers who really boosted my self-confidence and encouraged me to give it a go. And I like to remind them how much that initial contact meant to me.
I pretended I knew how to blog. Basically, I knew blogging was important to my career. I was already way behind blogging although I had written in journals my entire life. So I just did it. I did it first as a way to write about my personal life and then I created a few more to take it professionally. And I did it horribly. But it was for myself on a free site and all that practice was good for my career. It was also great for networking with other creatives. I used my first inspiring blog to connect with authors, life coaches, bloggers and even an Olympic medalist. Blogging was an impressive platform and although I feared others were snickering behind my back, I believed it was worth it. I still do. Even if you and my family are the only ones reading it.
I didn't take "no" for an answer. I'm a pretty sensitive soul. But when I wannabe, I can be pretty persistent. An old co-worker actually described me as a "bulldog." His words. But when I really want something I'm pretty stubborn about it so I push with grace. Basically, this means that if I'm turned down for a position and I really, really want to work for a company, I keep trying. I let them know that I'd be interested in hearing about other jobs in the future. I stay in touch with new potential ideas for a publication. I'll keep a great relationship and the lines of communication open because I know if there is a good fit, they'll feel it too. I wait for another position to come up. And you know what? It usually does.
I knew when it's time to let go. Sometimes I don't act on it as quick as I should. But I've gotten a lot better at this. If you hold on to a job too long that's not serving you, you're only hurting yourself. That's one of the reasons why I admire this writer. She knew when it was time to leave and she did. There are some writing gigs that I got that was seemingly great for my career. In fact, one led to being published on USNews.com. But after awhile, a few of these gigs didn't work out. Maybe it was the chemistry, the finances, the work itself, but while they didn't all end beautifully, I'm so glad I decided to end them. As they say, when you close one door, another one opens.
I learned to be picky. I think desperation makes you apply too all writing jobs just like hunger makes you eat whatever's in front of you. The key is to keep reminding yourself that applying for the wrong jobs is a big waste of time. Nowadays, I look for red flags before I apply to weed out time wasters. Helps a lot!
These are just a few lessons learned that helped me. Garnered any great wisdom on your own crazy freelance journey? Share them please.