Expert Writing Tips from Author Elizabeth Gilbert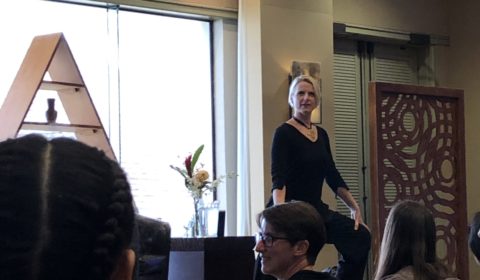 I had the honor of attending the Wanderlust Festival on Oahu this week. It's only my second time in the five years that we've been living here. Having gone again made me wonder why I don't make it out there every year, and then I remember the price and how far the drive is. But this one was definitely worth it.
While Wanderlust is primarily a yoga festival and I was in my yoga pants, I did not do a stitch of exercise. The most I did was walk near the ocean during our lunch break. But what I did do was a lot of mental stretching.
Elizabeth Gilbert's Big Magic Creativity workshop was nothing like I expected, and that was a good thing. In my imagination, we'd be painting or sitting around in small groups sharing about our creative experiences. The workshop, in fact, had almost nothing to do with creativity-directly anyway. It had everything to do with one of the greatest challenges of being a creative person-fear.
While I haven't digested everything Ms. Gilbert taught me during that one day, I can share a few droplets of wisdom she espoused on us specifically for writers. She jokingly said she only had about 90 seconds of info. The workshop wasn't made solely for writers, but what she did share bares repeating here.
She said fear is always the first one to speak. But that we should make decisions based on curiosity not fear. She also explained that before we write we need to know our audience.
"Never begin to embark on a writing project unless you know who you are talking to. The most important thing is who is this book to. The most intimate it can be is if I'm writing one on one."
And she's not talking about a demographic, but a single person. When writing Eat, Pray, Love she thought of her mom friend Darcy who couldn't travel. Gilbert wrote the book as a letter to her telling her about all the places she was unable to experience. She said this made it easy to keep it conversational and helped to determine what to put into and leave out of the book.
When you write, are you writing for a specific person? As I'm writing this, I imagine you dear reader sitting in your sweats on a cold wintery day with your mug of tea. I imagine you have a desire to write and get published, but you're afraid. You're a reader, a book lover, but you're secretly a writer too, even though you don't think you are, even though you think writers are only people who've been paid for their prose. But you have a story to share that we're all waiting for. I bet it's brilliant better than anything I've read or written. Is that you?
Who inspires you to write? Who is your ideal reader?
It's quiet here on this side of the blog. Tell me about you.