Local Hawaii Writer Turned Successful Fiction Author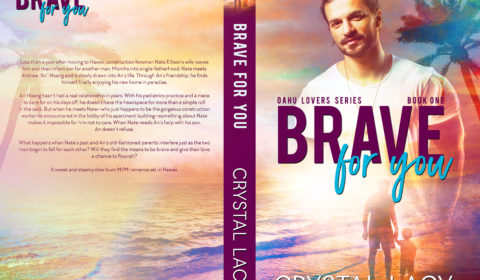 I've devoted a decade to nonfiction writing, but my love for reading and writing began with fiction. This is the first of what I hope will be many posts on the art of fiction writing. And it's a good one!
I'm pretty proud of this girl! I met her when I started my first local writing group and she's been supportive, and helpful in her advice, feedback and edits. While other members have gone off to complete manuscripts, she is the only one I know who has not only finished a book, but published it in a short amount of time with amazing success. It's climbing the Amazon charts in her genre, which you can follow along with me on her Facebook page. If being a fiction author is a dream of yours or you're just curious about how it's different from nonfiction, you'll want to read my interview with my friend Crystal Lacy.
Q: How did you get started as a writer? Is it something you've always wanted to do?

I started as a lot of writers in my genre (romance, specifically M/M romance) start–and that's with fanfiction. I began reading fanfiction when I was in my pre-teens in Sailor Moon fandom, then moved onto Harry Potter, then to various other anime/manga fandoms. I posted my stories on places like Fanfiction.net, and I still write fanfiction under a handle as often as I have time, which admittedly isn't as often as I'd like.

Q: Describe the process of writing a novel and then getting it published.

My process is pretty simple: come up with a premise, brainstorm key plot points, and make myself write it. I used to be a huge pantser (like fly by the seat of your pants, make it up as you go along) but realized that I never finished anything unless I wrote down some kind of general outline. Every writer will be a different process for that. After the first draft is done, I do a huge sweep for glaring errors and revise any plot holes/inconsistencies and add things to it that need to be there. I send it off to a beta reader to look at, and then when I get it back I revise. At this point I'll do line-editing myself, then send it off to an editor for more line-editing and proofreading.

I'm a an indie author, which means I self-publish my novels instead of procuring an agent and going the traditional publishing route with a big publisher/press. This was a decision I made because it offers me a lot more control–and usually a lot more money–than a traditionally published contract works. I also decided to be an indie author because the genre that I write for (guy-on-guy romances) in particular lends itself well to success as an indie author. There is less stigma in that particular genre than in some others with self-publishing. Most of my author friends, who make living salaries from writing, are completely self-published. This may or may not work for someone seeking to write in children's or literary fiction, but it works for me. So because I have control, once the book is finished, all I have to do is get the cover, set up promotions (I'm using a lovely promo company called, "Signal Boost Promotions" for my release), upload my book to Amazon and other online book retailers, and it's live. With traditional publishing it can take up to a year or longer for a book to come out from the date you finish it. I don't envy my traditionally published friends when it comes to the wait time. 

Q: I saw the exciting news on Facebook that your novel was selected on PopSugar. How did that happen?

In March 2018, I put a pre-release edition of my book up on the serial fiction app Radish, available for iOS and Android devices. The way it works is I released individual chapters of the story as I finished it, and readers could choose to read it for free as they unlocked (usually one every week) or pay app coins to unlock them early. The book achieved some popularity with the readers on the app. When Radish had the chance to feature some of their LGBTQ+ serials for Pride Month on PopSugar, they chose Brave for You as one of their featured books. It was super exciting, since I was on the list with some pretty talented recognized authors in the genre.

Q: What is the most challenging thing about being a fiction writer?

I think the most challenging thing for me is actually getting the words down. Luckily that's also the most fun thing about being a fiction writer. I'm constantly contriving ways to get myself to write more on a daily basis. I currently have a word count bet going on with an author friend in which we both have to write 2,000 words a day. It has a points structure and prize at the end for the winner.

Q: What is something surprising about the process and experience of writing and/or publishing?

It's important to have a tribe. We were talking amongst ourselves about this huge drama that happened in the romance writing community a month ago. A fairly successful author did something that got people really mad and basically destroyed her own reputation. We were all of the general consensus that it never would've happened if she'd had a tribe. Writing is such a lonely activity in and of itself, and publishing–especially self-publishing–is even worse, because sometimes we writers aren't automatically equipped with skills to be business-savvy, even when we have to. Having a writing tribe that will tell you the secrets of the trade–like how people will leave you one-star reviews for no reason and it's really not just you, or how your books will inevitably be pirated on multiple sites no matter how much you try to prevent this–will make it much less scary and frustrating to be a published author. So even if you feel you're in this on your own, do find others who will be in it with you. It'll make you so much happier.

Q: Do you have any advice for those wanting to be fiction authors?

See above! But also, I think the most important thing about being a fiction author is to turn out the best stories you can. Also to research your market. Think about the kind of books you want to write, and see if there are people who want to read it. Join online communities in your genre and see what sells. Consider whether what you're writing fits any of that. Even if it doesn't, you can still write it. But knowing what is out there will help you manage your expectations and focus on the market that will truly appreciate your writing. I don't count myself as an expert, but if anyone has any more specific questions about self-publishing and whether it's right for you, feel free to contact me at  or via social media. I'd be happy to point you in the right direction if I can't answer your questions. =)

Q: What's next for you and how we can find out more about your books?!

My debut m/m romance Brave for You was released on July 27th, 2018 and is available on Amazon in paperback and ebook format. It will also be free to read for Kindle Unlimited subscribers for the first three months. My second book, Change for You, is set to release at the end of September 2018. Right now I'm writing the third book in the series. I'm also working on an exclusive serial that I've been contracted to write for Radish. You can find more about me and my books on my website, https://crystal-lacy.com. I'm also on Facebook, Twitter, Goodreads and Instagram under the username writerlacy. If you're interested in purchasing my books, the best way to do so would be to follow me on my Amazon Author's page, which you can find a link to on my website. Brave for You is available for purchase through this link: mybook.to/BraveforYou

Crystal Lacy lives with her loving family in Hawaii, where it is always either drizzling or sunny and never snows—which is a shame, because she prefers being cold to being damp and hot unless it's for Very Good Reasons. She writes queer romance, mainly M/M, but also some F/F. She has aspirations to one day write a YA novel about cats. 

Crystal is a long-time fangirl and writes slash fanfiction for the Harry Potter and NBC Hannibal fandoms under the name crystalusagi. She has a deep love for fandom culture, and can be frequently spotted on Twitter and Tumblr reblogging pretty fan art. Her debut M/M romance novel is Brave for You, and it is available on Amazon and Kindle Unlimited.